Facilities Development is a team of engineering and construction professionals, experts, and specialists, supporting the York University community in the management of design and construction of facilities and infrastructure.This team provides overall Project Management services for the Capital Development Program at York University including the management of scope, cost, quality, risk, associated human resources requirements, communications, procurement and project integration. In addition, safeguarding the integrity of university facilities is partially done by this department by ensuring all Codes, Permits and Good Practices are followed. Records documentation implementation are kept and life safety systems appropriate to the needs are tested to ensure trouble free operation.
Contractor or Constructor? Visit our External Contractor/Constructor page page for information on doing business with York University.
Click the links below to view our completed and current projects.
Completed Projects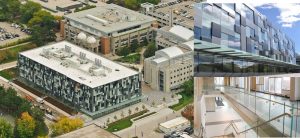 Completed - 2011
Project Budget - $70 million
Building size - 15,223 sq.m
LEED Silver
Architects - NXL and SSG
Contractor - VanBots
Completed - 2012
Project Budget - $70 million
Building size - 4,554 sq.m LEED Silver
Architects - Daoust Lestage Contractor - Pomerleau
Completed - 2015
Project Budget - $100 million
Building size - 16,084 sq.m
Architects - ZAS
Contractors/Constructors - Laing O'Rourke / Gillam Group Inc.
Current Projects
Scheduled Completion - Spring 2018
Project Budget - $50 million
Building size - 6,115 sq.m
LEED Gold
Architects - Baird Sampson Neuert
Contractors/Constructors - EllisDon
In planning stages.
York University Development Corporation (YUDC)
YUDC is the University's development partner, providing real property advisory, development and management expertise. Visit the YUDC website to learn more.